The Best Outdoor Kitchen Trends of 2023
As winter begins to fade away, we can't help but get excited about the upcoming summer season. Are you ready to transform your outdoor space this year and give yourself a summertime oasis right in your own backyard? We can help! 
If you want the most fabulous backyard on the block, it doesn't get better than having an outdoor kitchen. Keep reading to discover the best outdoor kitchen trends of 2023. 
The 5 Best Outdoor Kitchen Trends To Try
Whether you're an avid cook, an entertainer, or simply someone who appreciates the beauty of outdoor living, these outdoor kitchen designs can elevate your outdoor space to new heights and give you a "resort" type of feeling in your own backyard.
1. Various Cooking Methods
When it comes to cooking in the great outdoors, it's no longer just about traditional grilling. One of the latest outdoor cooking trends is exploring and incorporating various cooking methods.
Wood-fired ovens have gained tremendous popularity in outdoor kitchens, allowing you to cook various dishes, from pizzas with a crispy crust to succulent roasts and bread. Outdoor kitchens with smokers offer a fantastic opportunity to indulge in mouthwatering dishes that are tender, juicy, and bursting with smoky goodness. And the addition of an outdoor range can allow you to make sauces and sides that will compliment your meal.
At Vanderwall Brothers, we are massive fans of outdoor pizza ovens. There's no better way to make memories with friends and family during the summertime than by making homemade pizzas and enjoying them in the comfort of your backyard. We recommend the Forno De Pizza Oven from HPC Fire.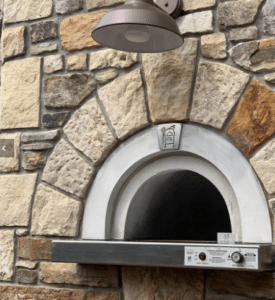 2. Multi-Level Outdoor Kitchen Designs
In recent years, outdoor kitchens have evolved from simple grilling stations to elaborate culinary spaces. One trend that has gained significant popularity is incorporating multi-level outdoor kitchen designs. These designs provide a visually appealing layout, enhance functionality, and create a dynamic atmosphere for outdoor cooking and entertaining. 
Multi-level outdoor kitchen designs effectively use vertical space, allowing you to maximize the available area. By incorporating multiple levels, you can separate various functional areas, such as cooking, dining, and entertaining, creating a sense of organization and purpose. 
You can include a bar or a countertop with seating on one level, allowing your guests to socialize and enjoy drinks while you prepare meals on a different level. The multiple levels can also accommodate additional amenities like built-in grills, pizza ovens, refrigerators, and sinks, providing convenience and accessibility to both the cook and guests.
3. Customized Storage Solutions
When you install an outdoor kitchen, you're likely to get very excited and buy new accessories to go with it, such as plastic plates and cups, placemats, cooking utensils, and more, but where will you keep it all? Your indoor kitchen is probably full already, with limited additional storage. 
Here's the solution – customized storage solutions in your new outdoor kitchen. Outdoor kitchens are becoming more functional, with homeowners opting for storage options that can hold everything from cooking utensils to outdoor tableware.
Built-in cabinets and drawers, as well as open shelving, give you plenty of places to store supplies outside. Here at VanderWall Brothers, we recommend products from Stoll Industries such as their outdoor kitchen islands with built-in storage. Their custom kitchen kits make them easy to install in a configuration that works in your space.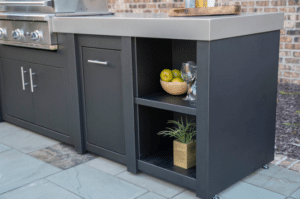 4. Outdoor Heating
While in the middle of summer, you may not think about needing any additional heat on those hot nights, but adding a heating element, either a fire table or outdoor heating unit, can lengthen the time you are able to use your outdoor kitchen and entertaining space by two or three months. While other people are sitting inside in the early spring or late fall, you can enjoy your outdoor space longer. 
We recommend Bromic heaters for your outdoor kitchen due to their performance and reliability. They work on a variety of fuel sources, including electric, natural gas, and liquid propane. They can be hung above the dining table or can be purchased in a portable option so you can move it to where you are most comfortable. They even have heaters that are rated for marine use and can be placed near a pool or if you are lucky enough, lakeside. These sleek heaters blend in with their surroundings and can be used with a remote or added to your smart home technology.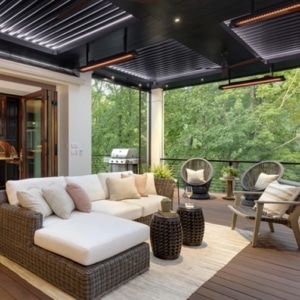 5. Versatile & Functional Spaces
By creating spaces in your outdoor kitchen that serve more than one purpose, you can maximize the functionality of your outdoor living space. For example, if you love using fresh herbs and vegetables in your cooking, consider adding a garden area to your outdoor kitchen design. Incorporate raised garden beds or vertical gardens nearby to grow herbs, vegetables, and flowers so you can always harvest fresh ingredients. 
Combine your outdoor kitchen with a comfortable lounge area to create a multi-functional cooking, dining, and relaxing space. Add comfortable seating, an outdoor fireplace, and a TV to create a cozy outdoor living space that can be used year-round. You can even install Bromic heaters to extend your time spent outdoors into the nighttime.
Add a little something extra with a table top gas lantern by Outdoor Great Room. Incredibly easy to install, they fit right where the umbrella would go on your patio table. Powered by a small propane tank they are set up to create a small whirlwind of flames.  They safely transform the space to create a warm ambiance with some interesting flare.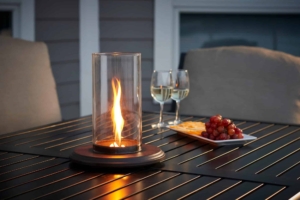 VanderWall Brothers Is Here To Help
Are you ready to open up a world of possibilities and elevate your culinary adventures to new heights? Contact VanderWall Brothers about creating a one-of-a-kind outdoor kitchen and entertaining space. We have everything you need, from grills to ovens to storage solutions to fireplaces. Visit us online to stop by our showroom to learn more! 
https://vanderwallbros.com/wp-content/uploads/2023/06/outdoor-kitchen-trends-2023-2-scaled.jpg
1707
2560
Jeralin Hamann
https://vanderwallbros.com/wp-content/uploads/2022/04/VanderWall_Heritage_Logo.png
Jeralin Hamann
2023-06-23 10:45:34
2023-06-23 10:45:34
The Best Outdoor Kitchen Trends of 2023