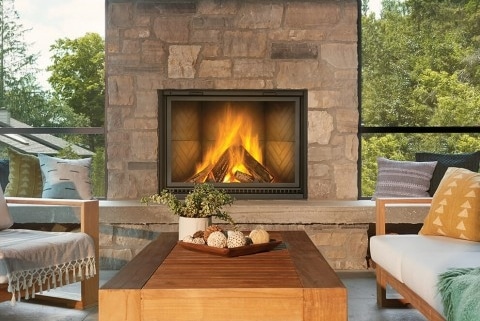 Everything You Need to Know About Outdoor Fireplace Installation
Outdoor fireplaces and fire pits can transform your deck, patio, or yard into additional living areas, providing a cozy ambiance for you and your guests as the temperature drops. The warmth and crackle of a fire can create a relaxing atmosphere that makes you feel as if you're on vacation in your own backyard. If you're considering installing an outdoor fireplace, it's essential to understand the key factors that will help you determine the ideal setup for your needs.
4 Important Things to Know About Outdoor Fireplace Installation
If you're new to outdoor fire options, we're here to help set you up for success and familiarize you with outdoor fireplace installation tips. Before you purchase the fireplace, consider the following factors:
1. Gas vs. Wood vs. Electric
One of the first important things you must consider when choosing an outdoor fireplace is whether you prefer gas, wood, or electric. 
A traditional wood fireplace captures the unmatched cozy feeling that comes to mind when you imagine sitting around the warm glow of a wood fire. However, wood-burning fireplaces produce significant smoke, which comes with increased regulations. 

On the other hand, outdoor gas and electric fireplaces don't emit ash and can generate the heat necessary to create a warm, welcoming backyard ambiance. You need to remember that to hook up a gas or electric fireplace, you'll need a gas line or outlet. 

One unique fireplace option to keep in mind is a smokeless firepit. Here at VanderWall, we're proud to carry the Breeo Smokeless Fire Pit. What sets it apart from other options is that when it gets hot enough, it will reburn the smoke, resulting in a more pleasant atmosphere without smoke chasing you around. Plus, they're made in the USA with high-quality stainless and corten steel. 
2. Location and Space
Determining the fireplace's location is also an essential step during this planning stage. Fire structures come in various shapes and sizes, so choosing the right style and finding the perfect place for your outdoor living space is crucial. 
Consider seating and proximity to the home when choosing the fireplace location. You might want to be able to walk right outside and sit by the roaring flames. Or, you might prefer that it's further away from your house to prevent noise from outdoor gatherings traveling into your home. 

One of the most critical considerations is local regulations regarding outdoor fires. Check your area's guidelines and laws before setting your heart on the spot for your new fireplace. 

If you're installing a wood-burning fireplace, there are additional measures you should take. You need to keep the location away from structures, trees, or other flammable materials, ensure proper ventilation, and install a spark arrestor or spark screen on the chimney to prevent sparks from escaping. Plus, the fireplace must be built on a sturdy, fire-resistant base, such as a concrete slab or

fire-resistant pavers

. 

Don't forget to cover electric units outside and keep them protected from the elements. They can not be exposed directly to the rain or snow. 
3. Necessary Upkeep
Each outdoor fireplace will require a different amount and type of upkeep. Consider how much time you're comfortable spending on fireplace upkeep before choosing a style.
Fire pits that burn wood require ash removal, scrubbing, and rinsing. Owners should also check for creosote buildup, maintain chimney cracks, and install a spark screen to prevent sparks and embers from escaping the fireplace.

Gas fire pit maintenance focuses on keeping the gas line clean and annually checking for leaks. You'll also need to keep the artificial logs, glass, and burners clean and check that the pilot light is working properly. To protect the fire pit year-round, you can store it inside in the winter or keep it covered and put it somewhere where the metal won't get damaged. 

The interior of electric fireplaces needs to be inspected for any debris or buildup that could cause a fire hazard. You'll also need to test the heating element before using the fireplace for the season by turning it on and letting it run for a few minutes, ensuring it's heating up properly.
4. Fire Safety
One of the most important things to know before installing an outdoor fireplace is the set of fire safety procedures to keep yourself and your family safe. We have sporadically mentioned some safety tips throughout this blog, but there are still more to keep in mind. 
For starters, anything flammable should sit at a distance or be protected from embers, flames, and gas, including outdoor furnishings, lawns, and plants.

Homeowners need to keep a fire extinguisher of the correct fire class nearby in case of an emergency and should maintain it yearly to keep it up to date.

Store wood in a dry place away from the elements to keep it dry and prevent mold or rot. You should only burn dry, seasoned wood in the fireplace, as wet or green wood can create excess smoke and soot buildup.
High-Quality Outdoor Fireplaces With VanderWall
With style options, placement, and safety regulations in mind, you can take the next steps in choosing your ideal fireplace or fire pit. Before you know it, you'll have an outdoor oasis right at your own home! Contact VanderWall today to get started with your outdoor fireplace installation. We know all the ins and outs of this process, and we can't wait to help you. 
https://vanderwallbros.com/wp-content/uploads/2023/05/Napoleon-high-country-nz8000_2-gallery-1600px-1.jpg
388
480
Jeralin Hamann
https://vanderwallbros.com/wp-content/uploads/2023/10/VanderWall-Logo-300x106.png
Jeralin Hamann
2023-05-22 10:14:39
2023-05-22 11:23:45
Everything You Need to Know About Outdoor Fireplace Installation