2023's Top Fireplace Designs
Are you thinking of installing a fireplace this year? Choosing the best option for your home can be challenging, especially when you're dropping a decent amount of money on it. To help maximize your design choices and give you inspiration, here are the top five fireplace design trends we're seeing for 2023.
The Top 5 Fireplace Designs of 2023
It's time to discover the latest and greatest fireplace design trends for your home. Which one will you choose?
1. For the Minimalist: Electric Fireplaces
If you love the cozy feel of a fireplace's ambiance but don't like the idea of having to feed it real wood, an electric fireplace would be a perfect choice for you. Electric fireplaces feature faux flames and are typically wall-mounted or placed as an insert, offering a sleek appearance. These fireplaces are affordable and offer convenient plug-in options, allowing the system to easily be turned on and off with the flip of a switch. Often, homeowners who live in moderate or warm climates opt for electric options since they don't need the heat source very often but still seek a cozy atmosphere. 
At VanderWall Bros., we're proud to carry electric fireplaces from Napoleon, Dimplex, Amantii, and Kozy Heat. Below is a charming electric insert option from Napoleon.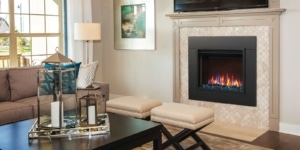 2. For a Contemporary Look: Linear Fireplaces
While we'll always have a soft spot for traditional fireplaces, more and more homeowners are starting to consider them bulky and high-maintenance. If you agree, you might be more interested in a linear fireplace. These rectangular-shaped fireplaces are stylish, easy to operate, and can easily be installed in most walls. Linear fireplaces are usually gas and don't require a chimney. They're fantastic options if you're looking for a sleek, modern option that doesn't take up much space but still gives off heat and will take those chilly winter nights up a notch. 
We've partnered with Kozy Heat to offer top-of-the-line linear fireplaces. Their Osseo Linear model, pictured below, instantly adds a sense of luxury to any room.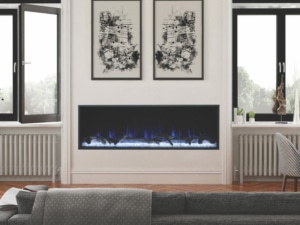 3. For a Rustic Look: Wood-Burning Stone Fireplaces
When it's all said and done, there's just something about a classic wood-burning fireplace that's difficult to replicate. They might not be the most cost-effective or convenient option, but they continue to have a devoted following no matter what. We believe that one of the reasons for this is that wood-burning fireplaces appeal to all of your senses – they keep you nice and warm, give off a nostalgic scent, and create a sense of visual appeal. One of our favorite ways to elevate a wood-burning fireplace is to surround the hearth and mantel with rustic brick or large round stone. 
Take a look at this wood-burning fireplace from Osburn. Can you picture a more cozy and relaxing sight?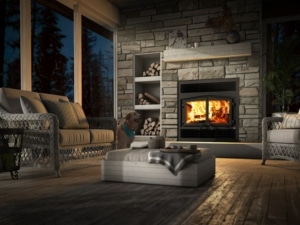 4. For a Simple Yet Cozy Feel: Wood Stoves
If you're a fan of wood-burning fireplaces but are looking for optimal heat throw, you'd benefit from a wood-burning stove. Like wood fireplaces, wood stoves get their fuel from real wood. Still, they burn better and have energy efficiency ratings between 60 and 90 percent (wood-burning fireplaces typically have efficiency ratings between 10 and 20 percent). Another popular feature of wood stoves is that they're easy to maintain and install and can be retrofitted into an existing chimney. Plus, there's a federal tax credit for wood-burning stoves, which covers 30 perfect of purchase and installation costs on qualifying new wood and pellet stoves.
When you're searching for a high-quality wood-burning stove, we trust HearthStone. They offer stunning soapstone, cast iron, and hybrid options.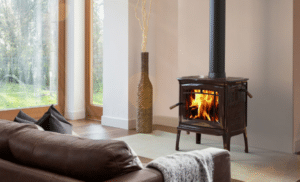 5. For Your Outdoor Living Space: Outdoor Fireplaces
Are you a true entertainer at heart? Do you love having a place in your home for friends and family to gather? An outdoor fireplace would take your outdoor entertaining space up a notch, without a doubt. Depending on your wants and needs, there are many outdoor options, including fireplaces, fire tables, pits, grills, pizza ovens, and more. There's one thing to keep in mind, though – with an outdoor paradise like this, guests may never want to leave your house!
When you want to take your outdoor entertaining space to the next level, look no further than The Outdoor Greatroom Company. Their impressive supply of fireplaces, tables, and pits will leave you in awe.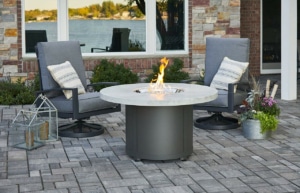 Want More Fireplace Design Recommendations? Get in Touch.
If you need help finding the fireplace that best suits your home design and budget, stop by our showroom! We'll guide you through and explain our various options — from gas inserts to wood-burning stoves, outdoor fire pits, and more. VanderWall Bros. is here for you; let's get started today.
https://vanderwallbros.com/wp-content/uploads/2023/03/2023-fireplace-designs-scaled.jpg
1707
2560
Jeralin Hamann
https://vanderwallbros.com/wp-content/uploads/2022/04/VanderWall_Heritage_Logo.png
Jeralin Hamann
2023-03-23 16:32:17
2023-03-23 16:32:17
2023's Top Fireplace Designs