Top Landscaping & Hardscaping Trends
It's a new year, and the spring season is quickly approaching. There's no better time for homeowners to give their outdoor spaces a makeover. Read on to discover this year's top landscaping trends and hardscaping trends and get inspiration for your outdoor space revamp. 
What Is Landscaping?
Landscaping is the modification of features of an area of land, including living elements, such as flora or fauna. This process includes designing, planning, and creating outdoor spaces to enhance beauty, functionality, and sustainability. 
Landscaping can include placing plants, trees, and other natural features. It can be done for residential, commercial, or public spaces and involve a range of techniques and materials depending on the specific needs and goals of the project.
What Is Hardscaping?
Hardscaping refers to the modification of non-living elements of a landscape design, such as paths, patios, retaining walls, and other manufactured features. Hardscaping can include the use of materials like stone, concrete, bricks, wood, and metal to create outdoor structures and surfaces.
Hardscaping can enhance outdoor spaces' functionality and aesthetic appeal and create distinct areas for different activities, such as dining, entertainment, and relaxation. It can also address practical concerns, such as erosion control and drainage.
What Is the Importance of Landscaping and Hardscaping?
There are many benefits to landscaping and hardscaping and reasons why they're essential. For starters, it will increase your curb appeal and add value to your property – making it more attractive to potential buyers. It will also enhance the visual appeal for the current homeowner and provide a beautiful space they want to spend time and use for enjoyment for years to come.
Another reason landscaping and hardscaping are important is that they are good for the environment. A landscape with native plants and sustainable hardscaping materials can help conserve water, reduce erosion, and support local wildlife.
Here Are the Top 4 Landscaping Trends of 2023
Are you ready to take your outdoor space to the next level? Check out the most popular landscaping trends of 2023. 
1. Sustainable Landscaping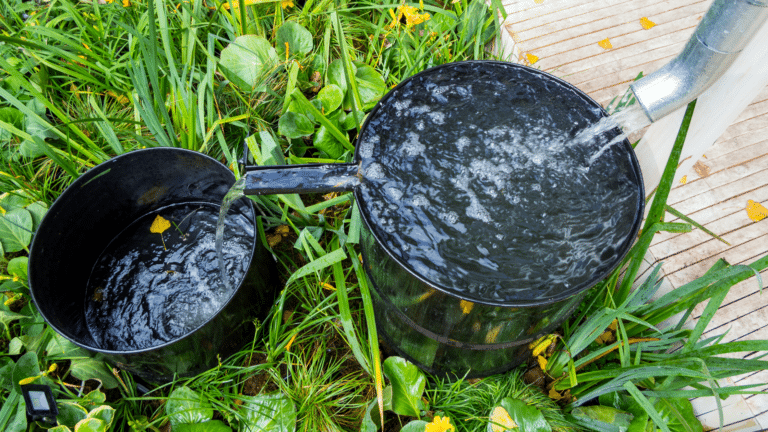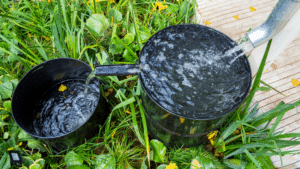 With sustainable landscaping and the incorporation of native plants, you can create a habitat for pollinators and other good insects. This will help your plant life flourish and prevent you from wasting money on plants that won't survive in your environment. 
Other ways to use sustainable landscaping in your space include adding a composting area and a rainwater collection system to save water. 
2. Use of Native Plants
As we mentioned above, using native plants and resources in yards is a trend we're seeing more and more of this year – and for a good reason! Native plants are typically more resistant to disease, drought, and other environmental risks, requiring less maintenance and upkeep. 
Also, most native plants are not invasive and allow all other plants in your garden or yard to grow freely without using fertilizer or pesticides.
3. Incorporation of Water Features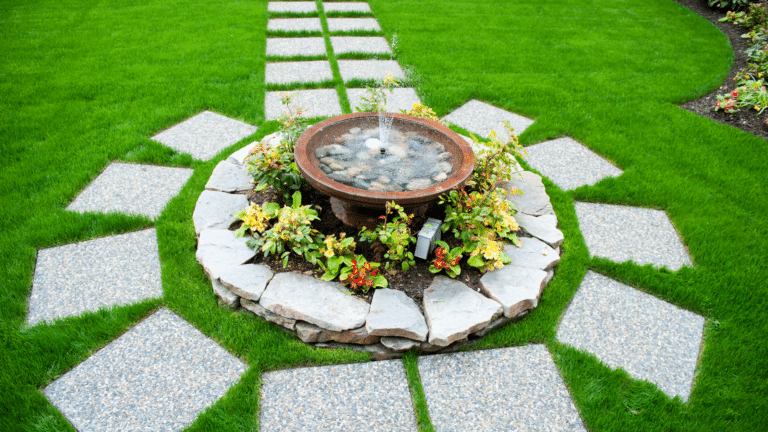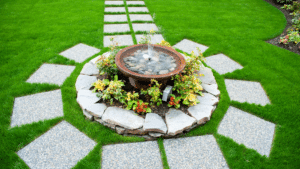 When you want to elevate an outdoor living space, it doesn't get any better than a gorgeous water feature. Adding a pond or fountain will create visual interest and a sense of luxury. A well-maintained and designed landscape with a water feature may increase the value of your real estate investment by as much as 20%. 
An additional benefit of water features with running water is that they can help to mask unwanted outside noises and create their own soundtrack of tranquil sounds. 
4. Minimalist Landscaping
Minimalist landscaping subscribes to the thought process that less is more – and we agree, especially if you're working with limited space or want to keep your budget low. You can spend less on ornamental objects and let the landscaping speak for itself. 
To complement minimalist landscaping, we recommend choosing simple, clean furniture, such as teak, with simple patterns. Also, you could opt for a few streamlined garden boxes rather than building an extensive in-ground garden. 
Here Are the Top 4 Hardscaping Trends of 2023
As you plan your next hardscaping project, consider these hardscaping trends of 2023. 
1. Multi-Functional Outdoor Living Spaces
Multi-functional outdoor living spaces are designed to serve multiple purposes, allowing you to maximize the use of your outdoor area. For example, fire pits and fireplaces can be used for warmth, ambiance, and cooking food. They can also serve as a focal point for gatherings and socializing.
Outdoor kitchens can include a range of features, such as a grill, sink, refrigerator, and seating areas, allowing you to cook and entertain guests in your outdoor space for various occasions. Plus, your garden can provide a space for growing your own fruits, vegetables, and herbs and a stunning setting for relaxation and dining.
2. Natural Stone Hardscaping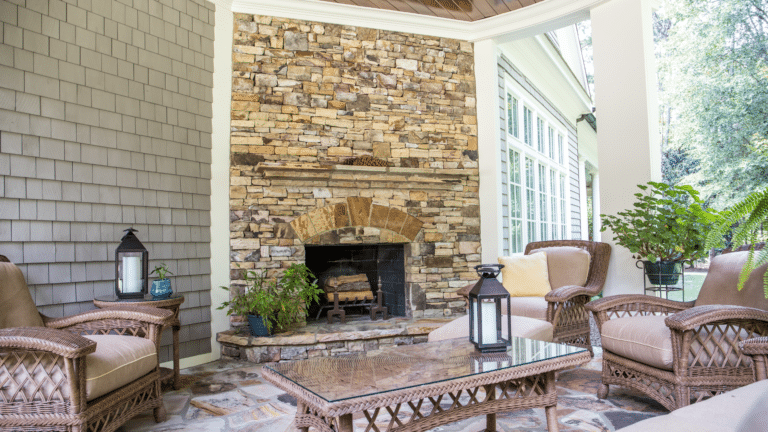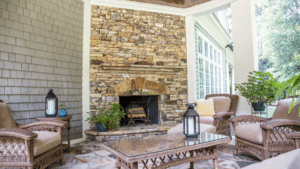 There are several benefits to using natural stone in hardscaping projects, including its high durability and versatility. It comes in many colors, shapes, and sizes and can easily be cleaned with a pressure washer or hose. Plus, natural stone is sustainable and can withstand harsh temperatures and weather conditions without deteriorating. 
Natural stones can be used in several ways in your outdoor living area, such as creating beautiful and durable patio surfaces, walkways, and paths that blend seamlessly into the surrounding landscape. Many of our customers opt for natural stone when building outdoor fireplaces and fire pits, since natural stone can be straight or curved and can handle high temperatures. Consider using natural stone to build outdoor kitchen walls, backsplashes, pool accents, columns, garden edging, and more. 
3. Outdoor Lighting 
When you invest in an outdoor entertainment space, you want it to be functional during the day and night, so it's vital to implement outdoor lighting. One trend that we don't see going anywhere is the use of string lights and bistro lights. They immediately add a romantic appeal to the area and make you feel cozy. 
On the practical side, functional pathway lighting allows guests to navigate the space in the dark easily, so no accidents occur. Smart security lighting for the outside is another great way to enhance the safety and security of your home. You can install motion detection lights and other smart lighting that integrate with smart home systems, such as home security systems and voice assistants like Alexa and Google Assistant. 
4. Use of Pavers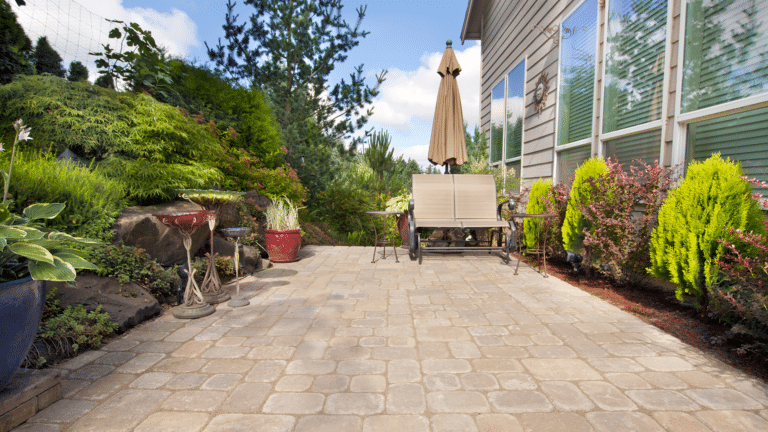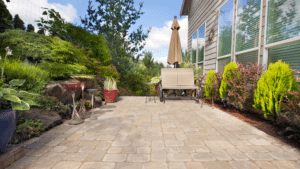 Pavers are flat, usually square or rectangular-shaped stones, bricks, or concrete blocks used for outdoor hardscaping projects. Pavers are designed to be interlocking, which means they can be fitted together tightly to create a stable and durable surface. Plus, pavers are a low-maintenance option for outdoor surfaces and are durable enough to withstand heavy foot traffic, extreme temperatures, and other weather conditions.
Some of the most popular ways to implement pavers are creating patios, walkways, driveways, borders, and retaining walls. They come in many shapes, sizes, colors, and textures, allowing for a wide range of design options. They are relatively easy to install and can be arranged in different patterns to create unique and exciting designs. 
Dreaming of Taking Your Outdoor Living Space Up a Notch? Let's Talk!
If you'd like to elevate your outdoor living areas, our team at VanderWall Bros. can help. We can offer beautiful living spaces, outdoor kitchens, pavers, fireplaces, natural-looking stones, and more. We can create the perfect environment for your family and lifestyle. Contact us online to get your project started today. 
https://vanderwallbros.com/wp-content/uploads/2019/07/Presidio_Marble-Grey-Onyx_Contempo-Onyx-3-1.jpg
1444
964
Jeralin Hamann
https://vanderwallbros.com/wp-content/uploads/2023/10/VanderWall-Logo-300x106.png
Jeralin Hamann
2023-04-11 15:58:11
2023-04-17 12:17:20
Top Landscaping & Hardscaping Trends