Install a Fireplace in a Home Without One
Most of the time, we work with clientele that requests to replace their outdated fireplace with a new and improved one. However, there are also times that we get asked if we can install a fireplace in a home that doesn't currently have one at all. 
Homeowners might not know how to install a fireplace in a house without one, but we do! Find out more about this process below. 
Can You Add a Fireplace to a House Without One? 
In short, the answer is – yes! You can install a fireplace in your home, even if you don't already have one. There are additional factors to consider, and the design and installation process will likely be more involved, but you can definitely make it happen. 
Can You Add a Fireplace to a House Without a Chimney?
Again, we have the answer you probably want to hear – yes. If your home doesn't have a chimney and you're hoping to install a fireplace, we can make it happen. You might be limited on what fireplace you can install, but options are available. Or, you could go a different but similar route and opt for a wood stove, pellet stove, or ventless gas fireplace, as they don't require full chimneys. 
How to Install a Fireplace in a Home Without One: 5 Steps to Success
1. Work With a Professional Fireplace Installer & Supplier
This step is key to successfully upgrading your home with a new fireplace. When you work with a fireplace installer, they know the industry's ins and outs and what you can get for your home and budget. Plus, most suppliers offer installation services or can refer you to a fireplace installer, making the installation process a breeze. 
There are many benefits to working with a professional fireplace installer, rather than trying to do the job yourself, including:
They are mechanically licensed and insured

They are familiar with all the necessary safety precautions to take

You'll have peace of mind knowing that you'll be able to successfully be able to achieve the results you want. 

You'll have expert knowledge at your fingertips to help you find the right product that best suits your needs and personal design aesthetic. 

The stress is off your shoulders. You can sit back, relax, and enjoy the convenience of someone else doing this job for you. 
2. Research Products & Determine Your Budget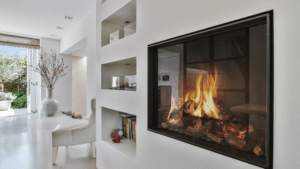 It's important to take the time to research the fireplace brands you're interested in. Each company specializes in varying products, designs, and functionalities. Whether you're interested in an electric fireplace, wood-burning fireplace, gas insert, or wood-burning stove, there is a brand that will have exactly what you're looking for. 
If you want to see the products in person rather than online, visit a local showroom. You can browse their inventory and get an up-close look at your options. Plus, while you're there, you can get an estimate of what you can expect to spend. Don't forget to include special features you want to incorporate, such as mantel design and installation. 
3. Create Your Fireplace Design
The next step is to work with your fireplace supplier and make a game plan for how your new fireplace will be installed. They'll create blueprints of everything and order all the products you need.
When making this plan, it's crucial that you don't forget to consider the size, placement, style, and efficiency of your new fireplace. You'll also need to consider where the chimney currently is and what wall will be best for installation. Don't worry, if this all seems a little overwhelming, that's what the professionals are for. They'll walk you through these steps, so nothing goes missed. 
4. Schedule & Complete Your Installation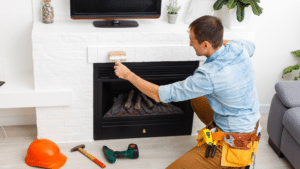 Once all the necessary products are ordered and arrive, it's time to get things going. You'll schedule the installation date that's convenient for you with your fireplace installer. They'll do all the work for you, so you can just excitedly await your new fireplace. 
Before the fireplace installer arrives at your home, there are some things you can do to prepare that would be beneficial. We recommend clearing an eight-foot radius around where the project will take place and ensure there is a clear entry and path from your door to the workspace. It's also best to secure your pets and keep children away from the work area. 
5. Post-Installation Maintenance
Congratulations! You're officially the owner of a brand-new, stunning fireplace in your home. It's time to crank up the fire and enjoy all the benefits. 
Don't forget, to get the most out of your investment and increase the lifespan of your fireplace, it's critical to perform routine cleaning, have it inspected each year, and perform any necessary maintenance. In most cases, your fireplace supplier or installer should be able to help you organize this and give you a rundown on how to keep it in prime condition. 
Dreaming of Installing a Fireplace in Your Home? Let's Talk!
If you'd like to install a new fireplace in your home, our team at VanderWall Bros. can help — whether you already have a fireplace or not! Our experts can help you find the perfect fireplace product for your home and lifestyle, then install it to create the warm and cozy space you've been dreaming of. Contact us online to get your project started today. 
https://vanderwallbros.com/wp-content/uploads/2023/03/fireplace-installation-scaled.jpg
1707
2560
Jeralin Hamann
https://vanderwallbros.com/wp-content/uploads/2022/04/VanderWall_Heritage_Logo.png
Jeralin Hamann
2023-03-08 10:12:13
2023-03-08 10:16:41
Install a Fireplace in a Home Without One