Backyard Fire Pit Ideas: 4 Ways To Transform Your Outdoor Living Space
There's something undeniably magical about gathering around a crackling fire, sharing stories, and enjoying the warmth of the flames under the night sky. Are you interested in installing a fire pit in your backyard so you can start making these unforgettable memories? We're here to help!  
In this blog, we'll provide you with inspiration for new and fun backyard fire pit ideas that will take your outdoor entertaining space to the next level. 
4 Backyard Fire Pit Ideas To Try
When it comes to outdoor entertaining, we know what we're talking about. Here are our four favorite backyard fire pit ideas we're loving right now. 
#1: Traditional Wood-Burning Fire Pit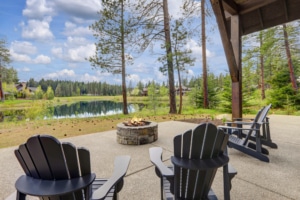 Nothing compares to a traditional wood-burning fire pit. This classic piece adds a timeless, rustic charm to any backyard. Wood-burning firepits allow you to enjoy the crackling sound and beautiful sights and smells of real wood flames. We recommend constructing your fire pit with heat-resistant materials like metal or stone. 
#2 Gas Fire Pit Table
Opt for a gas fire pit table for a convenient and hassle-free outdoor fire experience. Gas fire pit tables are available in various styles, shapes, and materials, allowing you to find one that complements your outdoor decor while providing a cozy gathering spot. This is a fantastic option if you live in an area that restricts wood burning. 
Gas fire pit tables combine the functionality of a fire pit with the practicality of a table. With a simple turn of a knob, you ignite the flames and control the heat output, and installing a gas line makes it convenient to use no matter what time of year it is. 
#3: Propane Fire Bowl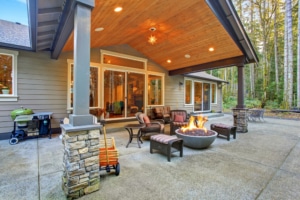 The propane fire bowl is another popular option on the market for backyard fires. Propane fire bowls are made of durable concrete and can be used with propane or natural gas. They vary in size and come in a wide variety of stylish designs and styles. 
In addition, fire bowls offer quick and easy installation. Plus, depending on the size, they can be portable. So they're easy to take with you if you ever move homes. 
Pro Tip: Protect your investment and opt for wind guards and other protective devices. They'll keep the equipment safe throughout the year during inclement weather conditions. 
#4: Smokeless Fire Pit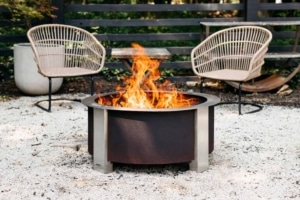 If smoke bothers you or you live in an area with strict regulations regarding open fires, a smokeless fire pit is a perfect solution. Smokeless fire pits often feature innovative airflow systems that burn the wood more efficiently, reducing smoke emissions. This advanced technology allows you to enjoy a clean and smoke-free experience. 
When searching for the highest-quality smokeless fire pits, we recommend BREEO. They're durable, versatile, and will elevate any outdoor space.
Heat Things Up in Your Backyard
Looking to create a cozy and inviting outdoor space with a stunning fire pit? VanderWall Bros. is your ultimate destination for all your outdoor living and fire installation needs. With our expertise in outdoor design and impeccable craftsmanship, we can transform your backyard into a captivating sanctuary where you can gather, relax, and create lasting memories with family and friends. 
Don't miss the opportunity to elevate your outdoor living experience this summer. Contact VanderWall Bros. today and let us help you create the perfect fire pit that will become the heart of your outdoor oasis.
https://vanderwallbros.com/wp-content/uploads/2023/08/4-backyard-firepit-ideas.jpg
667
1000
hannah@evenbound.com
https://vanderwallbros.com/wp-content/uploads/2022/04/VanderWall_Heritage_Logo.png
hannah@evenbound.com
2023-08-02 13:18:08
2023-08-02 13:18:08
Backyard Fire Pit Ideas: 4 Ways To Transform Your Outdoor Living Space