For anyone who'd like to install their first fireplace or upgrade to a new style, the terminology they'll come across when researching can be a bit confusing. The industry is full of misnomers and terms that appear similar, but are actually quite different. 
That's why we've created this glossary-style article — to help clear up any fireplace terminology confusion and ensure you get the type and style you're looking for. 
Important Distinctions in Fireplace Terminology
After working in the fireplace industry for decades, we've noticed some of the most common fireplace terms that our customers misunderstand. We'll start by getting to the bottom of them.  
Gas Insert vs. Gas Log vs. Gas Direct Vent
It can be easy to get these terms tangled up because they all signify a type of gas fireplace. However, there are key differences between how these three look, function, and perform. Below are definitions, explanations, and photos of each. 
Gas Insert
A gas insert is a manufactured fireplace (with steel, logs, sealed glass and safety screen) that's placed into a masonry wood-burning fireplace. It allows an old wood-burning fireplace to become a high-efficiency heating appliance, while also allowing for the ease of using gas. 
Gas inserts are considered highly efficient because they have sealed glass on the front with a safety screen. They bring fresh air in from the outside, and vent to the outside as well. 
Also, if you have damage to the flue or chimney of your old wood-burning fireplace, a gas insert is a great option because it will cover the flu with a new cap and liners, prolonging the life of the chimney structure. This is a key advantage for Michigan homeowners whose chimneys have suffered wear and tear from freezing and thawing during the winter.
For reference, here's a photo of a gas insert from one of our trusted brands, Kozy Heat®.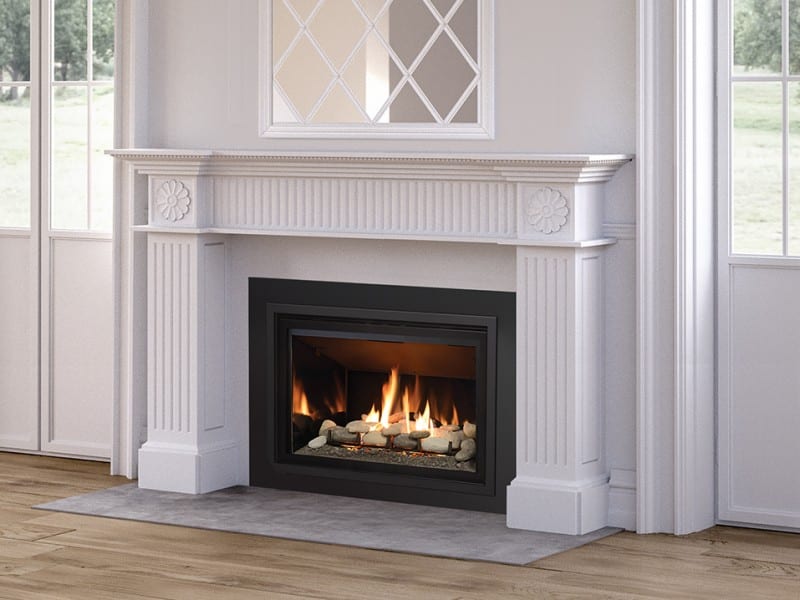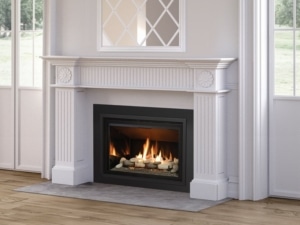 Photo courtesy of Kozy Heat® — Model: Chaska 34. 
Gas Log
A gas log is a stack of ceramic or concrete logs that are placed inside an existing fireplace structure (typically a masonry wood-burning fireplace or a zero-clearance firebox). It is often more decorative in nature. 
There are vented and vent-free options, but vented is the majority of what you'll see in West Michigan. They're used when the chimney doesn't have any damage and require that the damper is locked into open position to vent fumes. Since the damper has to be locked and in open position for fumes to disperse up the chimney, gas logs are mostly for ambience.
Here's a photo of a gas log system made by RH Peterson.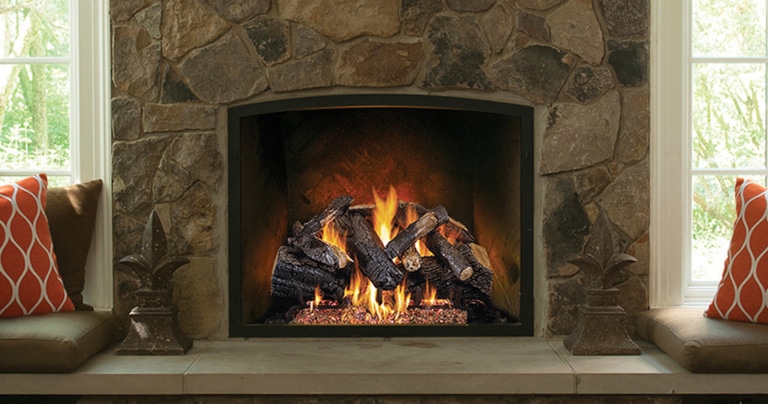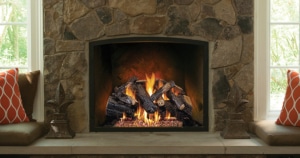 Photo courtesy of RH Peterson — Model: Real Fyre G31 Three-Tiered Vented Gas Log System.
Gas Direct Vent
A gas direct vent is a type of vented gas fireplace with a sealed glass firebox. The combustion chamber is completely sealed so it can vent directly out a side wall or ceiling. For this reason, gas direct vent units can be highly efficient and allow heat to enter the room; they bring fresh air in from outdoors and vent directly outdoors as well. 
Gas direct vents are typically implemented in new construction or renovation projects that require framing and stone facing around them.
Here's a photo of a gas direct vent unit from Kozy Heat®: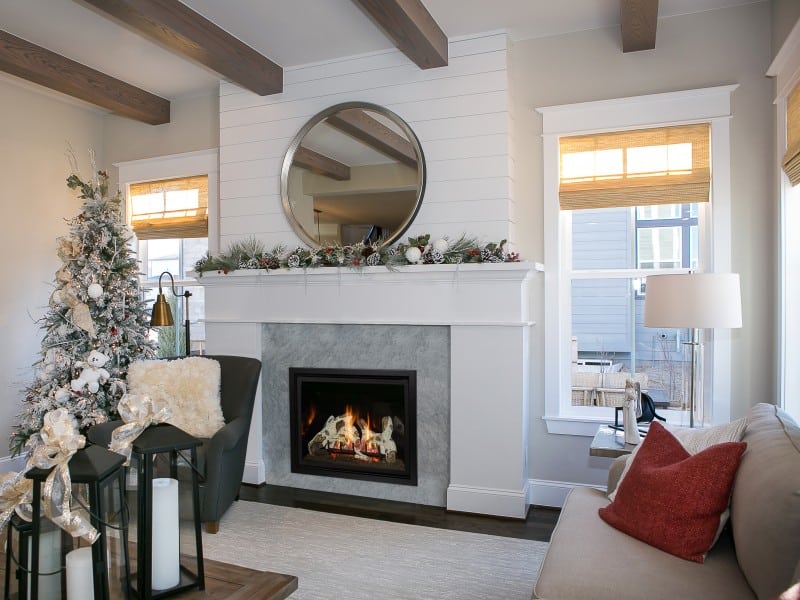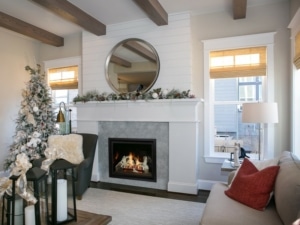 Photo courtesy of Kozy Heat® — Model: Bayport 36.
Wood Fireplace vs. Wood Stove vs. Wood Insert
Similarly, each of these terms seem identical because they are types of wood-burning heating solutions — but they're not. Here are their distinctions. 
Wood Fireplace
A wood fireplace is the typical wood-burning fireplace you'd first imagine. It's a ventilated structure that's built into the wall of a building, and it's made from heat-resistant materials like brick or stone. There are also options that come in zero-clearance, factory-made steel boxes. 
Here's a photo of what your typical wood fireplace may look like: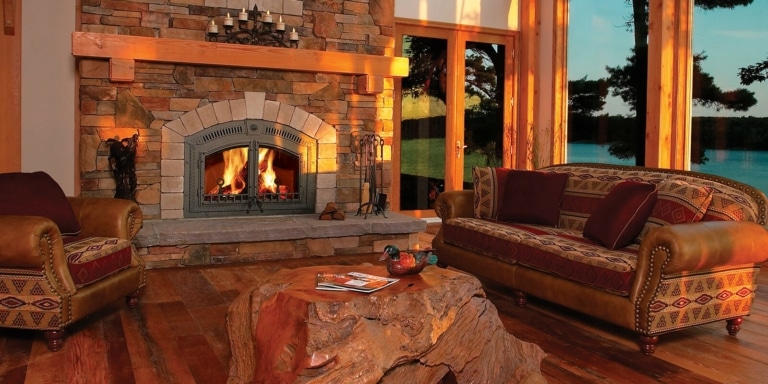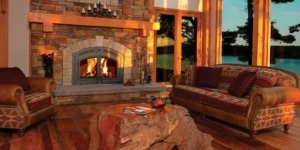 Photo courtesy of Napoleon — Model: High Country™ NZ 6000.
Wood Stove
A wood stove is a wood-burning device, rather than a structure. It stands alone (not built into a wall) and is made of various prefabricated components, like a firebox, chimney, and vent pipe. It is also a highly efficient option, offering up to 70% average efficiency. We discuss wood stoves in more detail in this blog, if you're looking for more information. 
Here's a photo of a wood stove made by HearthStone®: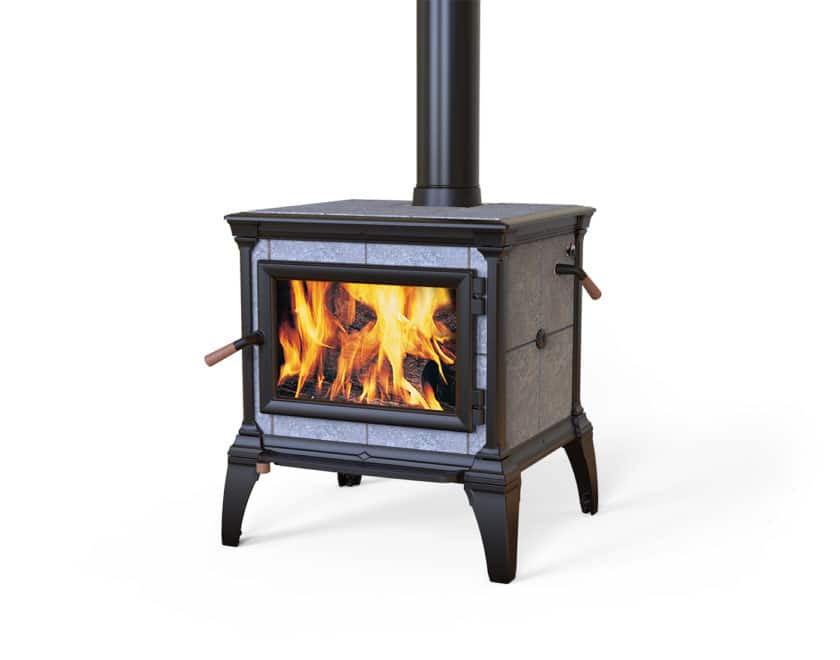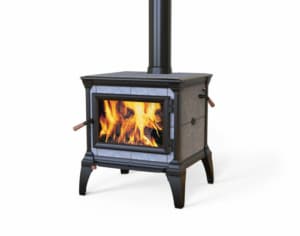 Photo courtesy of HearthStone® — Model: Mansfield 8013.
Wood Insert
A wood insert is a self-contained unit placed inside an existing firebox. It's a sturdy, heavy steel or cast iron box with insulated glass doors. It's also considered highly efficient and designed to get maximum heat from the wood into the room.
Here's a photo of a wood insert made by Vermont Castings™: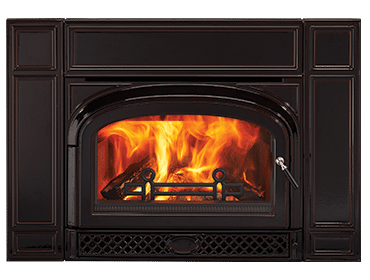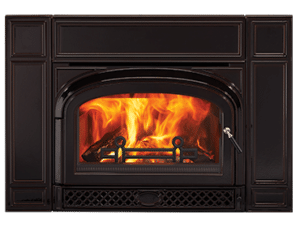 Photo courtesy of Vermont Castings™ — Model: Montpelier II.  
Other Key Fireplace Terms and Abbreviations to Know
Aside from the common misnomers listed above, there are other fireplace-related terms and acronyms to know and understand. As you research the perfect fireplace or heating solution for your home, you're sure to come across at least one of them. Here's a glossary-style list of their definitions for your reference: 
Air Vent:

A device, typically placed below or above (or both) the fireplace, that helps with air circulation, cooling, and venting within the fireplace and out of the building.

Biomass Stove 25(C) Tax Credit:

A

federal tax credit that grants a 30% tax credit (capped at $2,000) to consumers

who buy a highly efficient wood stove, pellet stove, or larger residential biomass heating system. 

Chimney:

A system that directs smoke and other gases up from a fireplace, typically through the roof of a building. 

Damper:

A device used to seal a building's chimney when a fire isn't running. It helps keep cold air from entering the building. 

Electric Fireplace:

A

type of electrical heating appliance

that simulates a real fire/fireplace using visual flame effects and a heat source. 

Firebox:

Often called the "central hub of the chimney system," it is the enclosed space behind a fireplace's opening or doors where fires are started and kindled.

Flue:

A vertical passage that enables smoke and other combustion fumes to exit the firebox, rise, and exit the building. Historically, this term was used for the entire chimney system, but is now used to describe just the vertical passage. 

Hearth:

The

base of a fireplace

(specifically a wood-burning fireplace). 

Hearth extension:

The area in front of a fireplace. It's what most people assume is the hearth. 

HPBA:

The acronym for

The Hearth, Patio & Barbecue Association

. It's North America's industry association for those who manufacture, sell, and service all types of fireplaces, stoves, heaters, barbecues, and other outdoor living appliances. 

HPBEF:

The acronym for The Hearth, Patio & Barbecue Education Foundation. It's a nonprofit educational organization for the hearth industry. 

Mantel:

The

decorative framework above a fireplace's opening

.

NFI:

The acronym for

The National Fireplace Institute

. It's the professional certification division of HPBEF, and its goal is to improve public safety by creating standards for planning and installing residential fireplaces and heating appliances. 

Pellet stove:

A type of heating device that burns compressed wood or biomass pellets to create heat. 
Questions? Contact VanderWall Bros. 
If you have questions about any of these fireplace terms, or a term you didn't find on our list, don't hesitate to reach out. Our fireplace specialists have been in the industry for decades and have seen it all, so we're always happy to direct you toward the answers you're looking for. 
Give us a call, stop by one of our locations, or contact us online.