Pavers have become popular for enhancing outdoor spaces, offering a versatile and durable solution that can transform any area into a stunning oasis. Whether you're looking to create a charming walkway, a cozy firepit, or a standout geometrical design, we have a plethora of inspiring ideas to help you make the most of your pavers. 
Read on and discover the best paver design ideas and discover how they can elevate the aesthetics and functionality of your outdoor living space.
What Are Pavers?
Pavers, also known as paving stones, are rectangular or square-shaped building units made from concrete, natural stone, brick, or clay. They're designed to create durable and visually appealing surfaces in outdoor areas. 
One of the best parts about pavers is their versatility. They allow for endless design possibilities, allowing you to customize your landscaping and hardscaping projects according to your style and preferences. 
The 5 Best Paver Design Ideas of 2023
#1: Create a Charming Walkway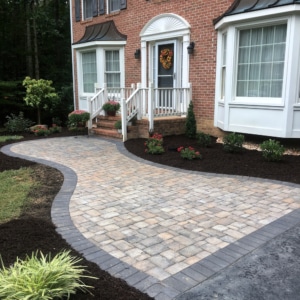 Pavers are commonly used to create pathways in gardens, backyards, patios, or front entryways. Installing a walkway will give your outdoor space a charming feel and guide visitors through your yard where you want them to go, so they're not damaging your landscaping. 
When using pavers to create a walkway, you can choose a complementary color to your home's exterior. Or, consider adding a bold accent color to create a unique color palette. For added visual interest, you can make unique formations and patterns like herringbone or basketweave. 
#2: Design a Functional Patio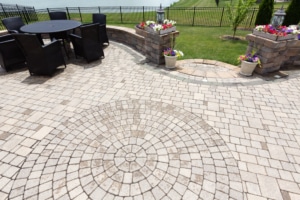 Don't go through the hassle of pouring concrete – use pavers to build a beautiful patio in your yard. You can easily create a cozy seating area or an extensive entertaining area using pavers. 
Pavers are incredibly versatile and customizable. You can create a space as big or small as you'd like and in any shape, color, or pattern. The possibilities are endless! 
#3: Install a Picturesque Pool Deck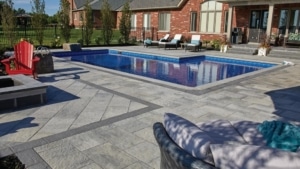 What good is a pool if it doesn't have a deck where you can relax and soak up the sun's rays? Use pavers and build a dazzling pool deck or patio! Pavers around a pool not only provide a slip-resistant and durable surface, but they also add a touch of luxury and sophistication. 
Experiment with different laying patterns to create a visually appealing design that matches your aesthetic. We recommend using light-colored heat-resistant pavers to keep the surface cool in the hot summer months. 
#4: Build a Cozy Fire Pit Area
There's nothing like a chilly evening sitting around a bonfire with your friends and family, sharing stories and laughing. Anyone can make a fire in their backyard, but a thoughtfully designed fire pit area will offer a sense of luxury. 
Use pavers to create a designated fire pit area. They're a top-notch option for this project because they offer heat resistance. You can construct a circular or square base around the pit and surround it with comfortable seating. 
#5: Install a Versatile Outdoor Kitchen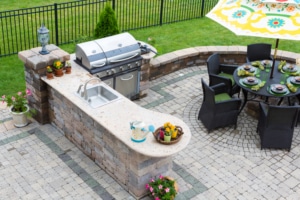 Do you want to transform your backyard into the ultimate entertainment space? Build an outdoor kitchen! From summertime BBQs to football Sundays to happy hours, your home will quickly become the place to be. 
Use pavers to build floors and spaces for built-in grills and ovens, and more. Pavers provide a durable that can withstand heat damage from cooking, so they're a good investment for this project. 
Pavers can also be used to create the floor in your outdoor kitchen since they stand up against heavy foot traffic, hefty spills, and weather damage. 
Are You Ready To Transform Your Backyard?
Are you looking to enhance your outdoor living space and transform your landscape into a stunning oasis? VanderWall Bros. has got you covered. We're your go-to outdoor living and landscaping experts, specializing in top-quality pavers that will bring elegance and durability to your projects. 
Whether you're dreaming of a beautiful patio, captivating walkway, or breathtaking outdoor kitchen, our team of skilled professionals is here to turn your vision into reality. Contact us today, and let us bring your outdoor dreams to life!
https://vanderwallbros.com/wp-content/uploads/2023/08/5-paver-design-ideas.jpg
667
1000
hannah@evenbound.com
https://vanderwallbros.com/wp-content/uploads/2022/04/VanderWall_Heritage_Logo.png
hannah@evenbound.com
2023-08-02 11:20:44
2023-08-02 11:20:44
5 Paver Design Ideas For Your Yard You Need To Try