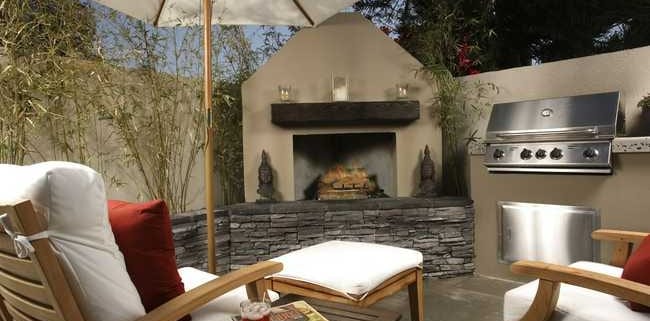 In Spring Lake, MI, winter temperatures can plummet to almost -8 degrees Fahrenheit. While you can stay indoors, bundled up and warm, it's nice to get fresh air every once in a while, especially if you have a nice backyard available.
And when Spring makes its way to Michigan (you know, sometime in March, April, or May) we're all ready for a little backyard fun.
Having a fire-table, fire-pit or another outdoor fire unit can be the centerpiece to your backyard.
If you want to stay nice and toasty during the cold months in Michigan, you should have an outdoor fireplace installed.
Curious? Here's a quick guide to outdoor fireplace plans.
Are Outdoor Fireplaces Worth It?
You may be wondering: how much does it cost to get a fireplace installed?
Well, it's true that outdoor custom fireplaces can cost a little more than normal ones. But when you can have an outdoor fireplace you're truly happy with, it can be worth every penny spent, and more.
So how much does it cost to build an outdoor fireplace? This really depends on things like the materials, size, and more.
But in general, they can cost anywhere between $2,000 and $30,000 (or more). As you can see, that's quite a broad range, so to get a better idea, it's best to speak with a local contractor for a custom patio fireplace estimate.
Some fireplace units and fire-pits and tables are pre-mfg and very easy to install. You can pick the stone and either have it professionally installed or do-it-yourself.
Do You Need a Permit for an Outdoor Fireplace?
When you want to build an outdoor wood-burning fireplace, or you want to build an outdoor stone fireplace, you need to make sure it's safe. Part of that may be getting a permit.
Of course, you need to follow your local building codes and zoning laws for outdoor fireplace safety. If your outdoor fireplace is going to be over a certain height, then you might have to get a permit. To have a safe outdoor fireplace, it's best you contact the city hall before you proceed with your fireplace plans.
Permits are generally required if you are building a fireplace that is gas. If it's a wood-burning unit, you may not need a permit, but make sure to follow the manufacturer's guide for distance and location for combustibles.
How Do You Build a Large Outdoor Fireplace?
Building an outdoor fireplace yourself can be a huge task to take on. Not only do you have to check the local building codes and apply for the proper permits if applicable, but you'll also have to source the materials and put them together yourself. If you don't have any DIY experience, then building an outside fireplace is best left to the professionals.
It's true that a homemade outdoor fireplace will have that special touch because you designed and make it yourself. But you can achieve the same with a custom-built one. You can trust in the professionals to work with you every step of the way to bring your vision to life.
How Do You Build a Foundation for an Outdoor Fireplace?
Perhaps you're still wondering how to build an outside fireplace on your own. In this case, you'll need to DIY a stone foundation, or concrete. Luckily, most smaller fireplaces do not need a foundation.
If you do need to build a foundation, the outdoor fireplace building materials you may need are concrete, cinder blocks, screws, mortar, nail gun, nails, drills, screws, screwdriver, masonry anchors, chop saw, and shovel. You'll also need protective gear, like gloves.
To build the foundation, dig a ditch, mix the concrete, and pour it in to get a level and safe area for you to make an outdoor stone fireplace. You can then build the stone fireplace exterior from there with the cinder blocks and mortar by alternating them.
How Far Does an Outdoor Fireplace Need to Be From the House?
For a safe outdoor fireplace, the minimum distance from grill to your house is at least 10 to 20 feet, however, it is much better to follow the manufacturer's guide of the specific unit.
In any case, the farther, the better.
Do You Need Fire Brick for an Outdoor Fireplace?
Fire brick is also known as refractory brick. It's used to insulate your outdoor fireplace.
You may be wondering: do I need fire bricks in my fireplace? The answer is yes!
For one, it'll give you a nice looking outdoor fireplace firebox. And again, lining a fireplace with fire brick will help ensure the fireplace is insulated well.
If the question of how to lay fire bricks is on your mind, just leave that to the professionals when you have them install your outdoor fireplace.
Do I Need a Damper for My Outdoor Fireplace?
When it comes to outdoor fireplace chimney design, it's the same as an indoor fireplace. However, you won't need a damper.
This is why when you look at backyard fireplace kits, they don't have a damper. Instead, they'll have a hydraulic setting non-water soluble refractory mortar.
Does a Fireplace Add Value to My Home?
Another important question is: does a fireplace add value to a home? It certainly does!
Homes with fireplaces have a higher selling value of up to 12% per fireplace. So this also answers the question of how much value does a fireplace add.
Are you also wondering: do gas fireplaces add value to a home? Considering the above statistic takes both indoor and outdoor fireplaces into account, they do as well.
How Do You Install an Outdoor Fireplace?
The easiest way to install an outdoor fireplace is to have professionals do it for you.
When building a patio fireplace, there are so many steps that go into it. Not only do you have to design it, but you also have to check laws, get permits, find the right location in your yard, create a foundation, build the fireplace, and control the smoke that comes out of it.
As you can see, knowing how to build an outside fireplace isn't a small task. So if you're looking for "outdoor fireplace kits near me," it's probably better if you just contact an expert instead.
Even if you know the basics of building an outdoor masonry fireplace, it can be quite time-consuming. Save some time and focus on what you really love by leaving this project up to people who are quick and great at their jobs.
Use This Helpful Guide for Outdoor Fireplace Plans
Hopefully, after reading this article, you have all the answers to your questions when it comes to outdoor fireplace plans. As you can see, it takes quite some work to build an outdoor fireplace, so don't do it yourself. Instead, get some experts to do it for you!
Would you like assistance building the fireplace of your dreams? Then get in touch with us now. We've been helping people like you ever since 1922.
https://vanderwallbros.com/wp-content/uploads/2020/03/outdoor-fireplace.jpeg
433
650
Avalanche Creative
https://vanderwallbros.com/wp-content/uploads/2019/07/VanderWall-Logo-300x95.png
Avalanche Creative
2020-03-30 09:00:54
2020-04-13 16:01:18
Outdoor Fireplace Plans: Heating Up Your Backyard